Ingredients
Snails
150 g of ham
500 g of mincemeat
300 g of chorizo
2 cans of natural cooked tomato
1/2 glass of white wine
1 glass of cognac
1 tablet of concentrated broth
1 onion
Snails Seasoning
Salt with lemon
Preparation
First of all wash the snails with plenty of water, vinegar and salt. Use as many water as necessary to clean all the slime. Once clean, put them in a container, cover it with a strainer and put weight on it so that they don't escape, and fill it with water. After 10 minutes, we bring them to a boil two or three times until the water comes out clean without slime or verdure.
Once they are clean, we cook them in a pressure cooker for about 10 minutes, covering them with water and adding half an onion without chopping, a tomato in pieces, two tablespoons of the snails seasoning, half a tablet of concentrated broth and salt. After cooking, we keep only the snails, and discard the rest.
For the sauce, sauté the ham, the chopped chorizo ​​and the mincemeat, mix it all well and add the tomato jars, the rest of the concentrated broth and a spoonful of the snails seasoning. Add the white wine and the cognac and sauté everything until you get a homogeneous texture. Finally, add the snails, taste the level of salt and rectify if necessary.
Serve the snails with the sauce very hot.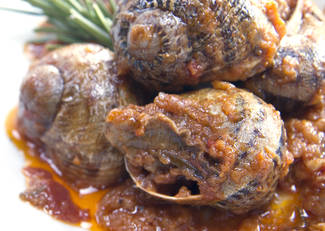 Preparation Time

30 minutes