Ingredients
1 kg of shrimp

2 stalks of celery

1 leek

1 spring onion

1 green bell pepper

1 can of 800 gr of tomato in pieces

2 tablespoons DANI Cajun spices

1 dessert spoon of flour

1/2 lemon
Preparation
One of the treasures that DANI's selection of spices hides is the Cajun mix, a combination of spices typical of the southern United States, and Cajun gastronomy is very rich in terms of tradition and culinary culture, and also if we talk of flavors and aromas. That's why classic Louisiana preparations have been the inspiration for these delicious cajun shrimp.
The first step is to peel the shrimp, reserving the heads and skins. We keep the bodies covered in the fridge.

In a little olive oil, sauté the heads and skins until golden brown. Add water and let it cook for 30 minutes, then strain it and store (we will need about 500 ml of broth).

In a pot, heat a fund of olive oil and poach the finely chopped vegetables in it. Add the flour, the cajun spice mix. We stir for a minute, while the wonderful smell of Cajun spices fills our kitchen.

At that point we add the tomato and the broth and let it cook until it reduces and thickens. This will take about 45 minutes.

Add the shrimp bodies, cover the pot and leave them for three minutes. Rectify the stew with the juice of half a lemon, salt and pepper.

Remove from the heat, sprinkle with the chopped parsley or cilantro and the cajun prawns are ready to serve.
PLATED:
When you prepare these cajun prawns you are going to need some ingredient that picks up the sauce.
We usually recommend a whole basmati rice, since the consistency of the grains of this type of rice is a counterpoint to the sweetness of the sauce. You can also use couscous or even a few grains of wheat or barley can work very well. Remember to always serve the dishes separately: in one bowl the prawns and in another the garnish.
TRICKS:
It is important to correct the acidity of stews that have a tomato base. Any sweetener will help in this task: cane sugar, honey, syrups...
We use the flour because this dish is inspired by gumbo, a very thick stew. If you do not want to use the flour, add a little ground almond to achieve the necessary thickness.
Do not forget to cut the vegetables of the sauce into very small pieces. The protagonist of this recipe is the shrimp and it does not want competition!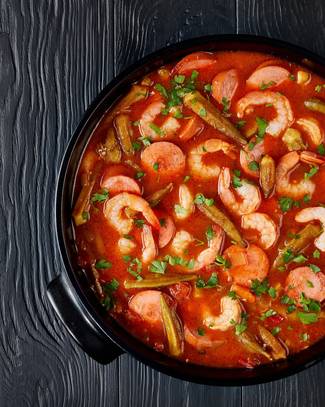 Preparation Time

15 minutes

Cooking Time

1 hour 15 minutes

Total Time

1 hour 30 minutes