Ingredients
To marinate the chicken:
800g of chicken

1/2 teaspoon ground chili

half lemon juice and salt

200g yogurt

1 teaspoon masala

2 tablespoons olive oil

3 garlic cloves
For the sauce:
2 tomatoes

1 onion

2 garlic

1 tablespoon of masala

2 tablespoons of sunflower oil

1/2 teaspoon sugar

100 ml of coconut milk and salt
Preparation
Spices have the ability to transform the most bland of dishes into a delicacy. The combinations are endless, as many as cooks. However, there are mixtures that, because of how well they work, have earned a name of their own. Such is the case of Garam masala, which translates into Spanish as hot mix, is a combination of spices originating in northern India. If you are fond of Indian cuisine you cannot miss this recipe.
ELABORATION:
I have used breasts, but any other part of the chicken can be used as long as it is clean of bones and skin.
Some incisions are cut on the chicken and seasoned with salt, ground chili and lemon juice. Let cool for about 30 minutes.

Remove and macerate with the yogurt, the garam massala, the oil and the mashed garlic cloves. We leave for at least three hours in the cold.

Then we roast in the oven at 230 ºC for about 15-20 minutes. We remove, cut pieces about 1 cm wide and reserve.
We prepare the sauce.
In a saucepan, sauté the garlic and add the onion and when it begins to brown, add the chopped tomatoes and let them soften for a few minutes.

Add the salt and sugar and reinforce with a tablespoon of garam masala.

Add the coconut milk and the chopped chicken. Let cook for about 5 minutes and serve hot.
TASTING:
We serve the chicken garam massala accompanied by basmati rice and the famous nan bread. We can raise the tone of the spiciness according to taste and serve the chicken with a little chopped fresh coriander.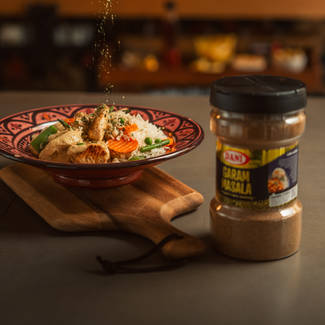 Preparation Time

10 minutes