Ingredients
Flour tortilla (8)
Chicken breast (2)
Red pepper (1)
Green pepper (1)
Onion (1)
Water (1 trickle)
Salt
Preparation
If we give you the choice between cooking chicken or enjoying preparing these
fajitas, what do you prefer? How sure we share the answer (the
second, of course), we can only share the recipe. All yours!
We cut the vegetables into strips. In a pan, we poach them so that later it is easier to fill the fajita.
Add a pinch of salt, to taste. We add the chicken and continue cooking for about 5 minutes. It is also very fast!
Now, a splash of water and a lot of Mexican flavor seasoning. Ah, You still don't have it? Well, click here and do not miss your pantry.
When the water evaporates, there will be a spectacular sauce. We can accompany it with a little grated cheese and guacamole.
Are you very daring? Then try a hot sauce. From now on, fajitas will be the typical dish of Mexican cuisine ... and from your house!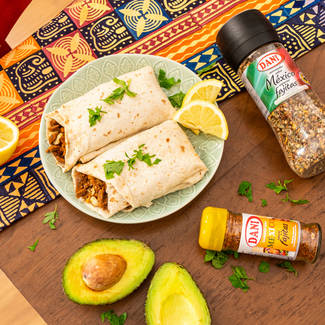 Preparation Time

10 minutes