Ingredients
2 cans of cockles in brine
1 orange
1 lemon
Olive oil
Black pepper
Preparation
Open the can of cockles and drain them without discarding the broth. We reserve this broth in a bowl. Peel the orange and separate the segments. Clean well so that there are no traces of white skin.
In a separate bowl we pour half of the cockle broth. Add a bit of olive oil, the juice of 1/2 lemon and mix until emulsified.
This snack is ideal to serve in individual spoons. In each teaspoon we have 1/2 segment of orange and 4 cockles (if they are large, we put 2). Season with our vinaigrette and, finally, grate a little lemon peel, sprinkle the portions with the skin and freshly ground pepper.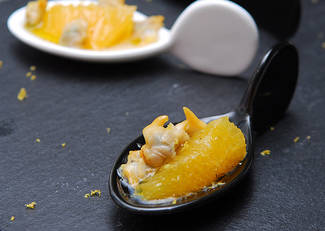 Recipe type

Entrée / Appetizer