The fennel infusion is delicious and will be good for our stomach, especially after Christmas meals.
Ingredients
Fennel seeds (2 tablespoons - 60 gr)
Licorice (1 teaspoon)
Mint leaves
Cup of water (250 ml)
Lemon (to taste)
Preparation
Heat the water in a kettle to the boiling point. Preferably mineral water so that the chlorine does not alter the taste.
Pour the water into a cup.
Add the fennel and licorice to an infuser. If the mint is dry you can also add it. If it is fresh you can do it after serving the infusion in the glass. Cover and let stand between 5 and 10 minutes.
Remove the infuser. If the mint is fresh you can add it now, you can also add the lemon, sugar or honey to taste.
Enjoy this perfect infusion for digestion.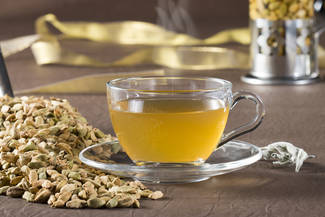 Recipe type

Drinks and cocktails

Recipe Cuisine

Traditional

Preparation Time

5 minutes