Ingredients
300g potatoes

1 onion

Harissa (to taste)

1 clove garlic

30 ml lemon juice

extra virgin olive oil

Goat cheese to taste
Preparation
Harissa sauce is a traditional condiment in Moroccan cuisine, it is one of the most common ingredients in Maghreb cuisine, especially that of Tunisia, as well as Middle Eastern cuisine. Adding a small amount to pasta recipes, stews, stews or marinades, you get a delicious aromatic touch, especially if you are fond of spicy.
ELABORATION:
Wash the potatoes well, peel them or leave part of the skin (to taste) and chop them into pieces of approximately the same size, no more than two centimeters. Finely chop the onion and the garlic clove.

Heat a little oil in a frying pan and add the onion and the clove of garlic, cooking them well for a couple of minutes until they begin to soften.

Add the harissa and lemon juice, and add the potatoes. Cook everything together over high heat, stirring well.

When the potatoes begin to color, lower the heat, cover and cook until the potatoes are tender inside. Stir from time to time and cook the last few minutes without the lid. Add a little more salt and pepper if necessary and add the crumbled goat cheese when serving.
PLATED:
When you prepare these spicy potatoes with harissa sauce you are going to need some ingredient to accompany this delicious side dish.
We usually recommend a bit of protein, like grilled chicken breasts or basmati rice.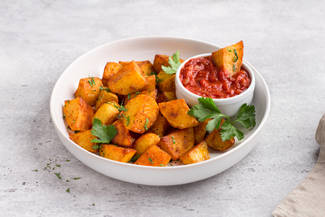 Preparation Time

10 minutes