Ingredients
50 g of sweet corn
1 cucumber
1 tomato
1 red onion
1 carrot
Olive oil
Oregano
Vinegar
Salt
Preparation
Drain the corn and place it in a bowl. Reserve it.
Peel the carrot, the cucumber and the onion and cut everything into pieces (to taste) and add them to the bowl with the sweet corn. At the same time, wash the tomato well, remove the skin (this is optional) and cut it into several pieces. We also add it to the bowl.
Prepare the dressing by mixing the virgin olive oil, the balsamic vinegar, the oregano, the salt and the black pepper. Stir the dressing well, add it to the previously prepared salad and it is ready to eat.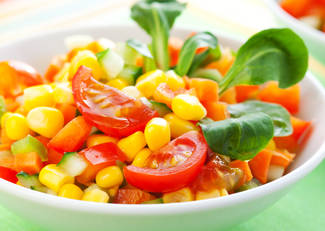 Recipe type

Entrée / Appetizer