Ingredients
4 potatoes
150 g of cream cheese
1/2 cup of sour cream
1 onion
1/2 teaspoon of garlic salt
1/2 cup of grated cheddar cheese
1 tomato
Preparation
Cut the potatoes into large pieces and place them in a medium saucepan. Add enough water to cover the potatoes completely and cook over medium-high heat until the potatoes are tender, about 15 minutes.
Drain and prepare the puree in the same saucepan, reserving some potatoes on a plate. Preheat the oven to 200ºC.
In the saucepan add the cream cheese and the sour cream, and beat everything until you get a uniform cream and add the onion (previously grated) and the garlic salt. Put the potatoes that we have reserved before in a baking dish and cover them with the mashed potatoes. Sprinkle with cheddar cheese and bake 20 minutes or until the cheese is toasted.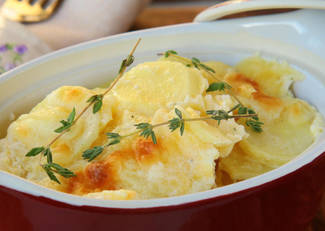 Recipe type

Entrée / Appetizer