Ingredients
120g onion

1 clove garlic

Ras el hanout to taste

250g Zucchini

200 g natural chopped tomato

50 ml of water

100 g Couscous

Vegetables soup

extra virgin olive oil

Salt
Preparation
The tajine is a baked clay container used in Maghreb cuisine. The dishes that are cooked in it are given the same name, such as this tagine of vegetables al ras el hanout with couscous. Juicy, tasty and spicy vegetables served with a side of couscous with all the aromas and nuances that only ras el hanout can give them. A winning combination that, in less than 30 minutes, transports us to exotic places. Traveling through the kitchen is possible with recipes like this vegetable tagine with couscous. A delicious and aromatic combination of flavors and textures that are perfect for a quick meal. A dish full of nutrients and very healthy for you to take care of yourself enjoying.
ELABORATION:
Peel and finely chop the garlic clove. We do the same with the onion, cutting it into fine julienne. Heat oil in a frying pan and fry both over low heat. When the onion is transparent, add the ras el hanout and stir to mix. Saute for a couple more minutes.

Meanwhile, wash the zucchini and cut it into cubes. We add it to the pan along with the crushed tomato and the water. Season, cover and cook for 5 minutes or until the zucchini is slightly tender and al dente. We remove and reserve.

We prepare the couscous by toasting the spices that our ras el hanout offers, in this way they give off their smell and enhance their flavor. We place the couscous in a measuring jug to calculate the amount of broth needed, which will be the same volume. Add the broth to the pan, bring to a boil and add the couscous. Cover and let stand 10 minutes.
RECOMMENDATION:
We serve the couscous together with the vegetables flush with the hanout and we recommend sprinkling toasted flaked almonds on top.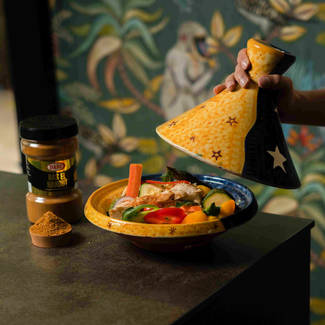 Preparation Time

15 minutes

Total Time

1 hour 15 minutes