Torrijas are a typical sweet that is prepared in Spain for Easter. It is an easy and cheap recipe. They can be made in different flavors. Here you will find the traditional recipe.
Ingredients
Loaf of bread (from the day before preferably)
Milk (1 Liter)
Sugar (60 gr)
Cinnamon (1 branch)
Eggs (2-3)
Olive oil
Preparation
A stale loaf of bread is used to better absorb the milk and make the toast juicy. The key is that the slices absorb the most milk, so the crumb will be creamy.
Cut the bar into slices of about 2-3CM. Reserve.
In a saucepan we put the milk (1 L), the sugar (60 gr) and the cinnamon stick. Bring to a boil and turn off, to prevent it from spilling. Leave 5 minutes of covered infusing minutes so that the milk takes on the flavor of the cinnamon. 
Put the slices distributed in a large source, and then we pour the milk over them one by one, and little by little. It is not necessary to use all the milk. The idea is that the crumb absorbs the milk and soaks well.
Leave a few minutes and pour a little milk again so that the bread absorbs more. The more it absorbs (without dripping), the juicier the French toast will be.
Let the slice rest for half an hour in the milk and then we fry them.
Beat the eggs (2-3) in a bowl and reserve.
Mix sugar and cinnamon in a bowl, for when the torrija is fried, sprinkle the mixture on top. We put oil in the pan. One finger of minimum oil. We heat up to 170º-180º.
Now, one by one, pass the torrija in the egg and then place them in the oil, being careful not to crumble. Fry them for a couple of minutes each side.
When they are golden, we take them out and drain them on paper. Sprinkle the sugar and ground cinnamon on top.
Let cool and we can enjoy them!
If you want to try new flavors, you can add port or a branch of vanilla to the milk to infuse.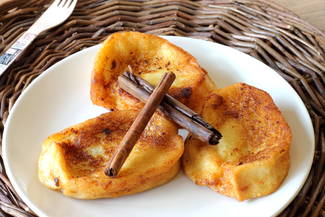 Total Time

1 hour 20 minutes