Paninis are stuffed bread sticks, in this case we are going to teach you how to make tuna paninis that are delicious!
Preparation
Preheat the oven to 200ºC.
 
Cut the loaf of bread in half and divide it in half, making a total of 4 pieces. 
 
Take a tray and put baking paper on the base. Place the 4 pieces of bread and add a base of tomato sauce. Sprinkle with DANI pizza seasoning. 
 
Open the cans of DANI tuna in olive oil and spread them on all the pieces of bread. Cut the cherry tomatoes in half and place them on top as well. Add grated mozzarella to taste. 
 
Place the pan in the preheated oven and bake in the oven for 10 minutes until the cheese is golden brown. 
 
Serve the delicious homemade paninis and enjoy.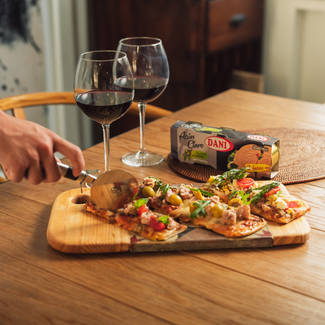 Recipe type

Entrée / Appetizer

Recipe Cuisine

Mediterranean, Italian

Preparation Time

10 minutes