Ingredients
2 puff pastry doughs
8 onions
4 cans of tuna
1 egg
1/2 tablet of meat concentrate
White wine
Vegetable soup
Olive oil
Ground Bay
Black pepper
Salt
Preparation
Cut the onions into julienne strips, sauté them in olive oil until they become transparent, add salt and pepper and season with a pinch of ground bay, black pepper, half a tablet of meat concentrate, a trickle of white wine and a trickle of soup. Let it reduce and taste of seasoning. Add the drained tuna and mix well. Reserve it.
Spread butter in the oven plate and sprinkle with flour. Extend a layer of puff pastry.
Cut the layer in small portions so that we have individual pies. Next we add the tuna stuffing on top, and close with another layer. Seal the edges with a fork, lightly pierce with a fork the top of the pies, paint them with egg.
Heat the oven to 200º C, once hot introduce the pie and bake at 200º C for 25 minutes. Once cooled they are ready to eat.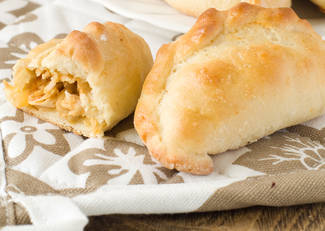 Total Time

1 hour 30 minutes