Ingredients
FOR GINGER AND VANILLA HONEY
FOR THE COCKTAIL
Preparation
We start by preparing the ginger with vanilla mixture. Put the following in a pot: a cup of water, a sugared vanillin, and half of ground ginger. Heat everything over medium heat. Next we scrape the vanilla branches to get the seeds and add both to the pot: seeds and branches. Now mix well and wait until the liquid is reduced by half, taking a consistency similar to that of a syrup.
When we have it that way, we let it cool in the fridge, resting. While we wait, we'll start with the cocktail. Divide the mint leaves in two glasses, washed and disinfected. Next, grind the cardamom beans and add 2 tablespoons. We do the same with the star anise, until filling 2 teaspoons.
Add 2 tablespoons of sugared vanillin and crush everything with the help of a mortar, extracting the essential oils of the mint.
Finally, we placed ice in the glasses, without skimping, and added a bit of the ginger and vanilla syrup that we had prepared before. Finally, we fill the glasses with mineral water and ... chín, chín! Enjoy this simple and delicious cocktail!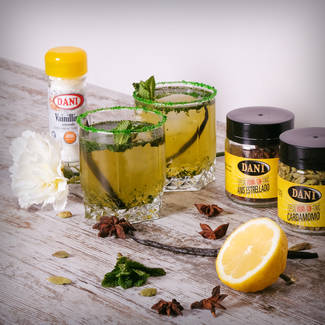 Recipe type

Drinks and cocktails