Preparation
Cut the cheddar cheese into strips and then prepare three bowls: one with chickpea flour (or gluten-free rice) mixed with a little oregano, another with a couple of eggs with sprinkled parsley and a third with batter mix (gluten-free) Dani with crushed oatmeal.
After preparing the three bowls, touch our fingers by passing them in order for each of them: first for the bowl of flour with oregano, then for the eggs and, finally, for the bowl containing the batter mix.
We have everything ready to start frying our gluten-free cheese fingers. We cover abundantly the bottom of a pan with olive oil (we can also use a fryer) and fry over high heat for 3-4 minutes. During cooking we will turn them over very carefully to prevent them from opening. When they are golden, we can remove them. Remember to drain the surplus oil so that they are more crispy and tasty.
Ready to serve! We can accompany them with a little sauce like gluten-free barbecue or with the sauce that we like the most!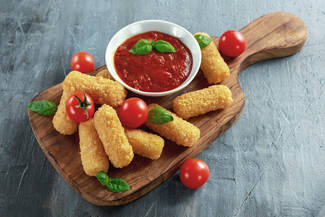 Recipe type

Entrée / Appetizer