Golden on the outside and creamy on the inside, we show you how to prepare delicious crab pancakes.
Ingredients
Cans of DANI crab meat (3 cans)
Egg (1 unit)
Mayonnaise (1 cup)
Salt (1 teaspoon)
Ground cayenne pepper (1/2 tbsp)
Ground black pepper (1/2 tablespoon)
Parsley leaf (2 tablespoons)
Bread crumbs (1 cup)
Virgin olive oil (2 tablespoons)
Preparation
In a bowl add the cans of DANI crab meat, mayonnaise, egg, salt, ground cayenne pepper, ground black pepper and parsley. Mix all the ingredients until everything is well incorporated. 
 
With your hands, take the dough and shape it into a hamburger. Once we have the shape done, we will coat it with a thin layer of breadcrumbs.
 
We heat a frying pan and we put oil, we fry the pancake 5 minutes in each side until they are golden. If we see that it browns too fast, we lower the fire. 
 
Serve on the plate and ready to eat. It can be eaten alone or accompanied.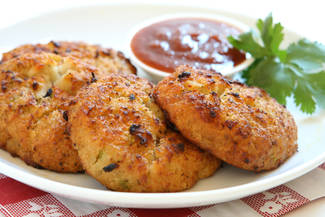 Recipe type

Entrée / Appetizer

Preparation Time

20 minutes