Learn how to make delicious cep croquettes that your palate will really enjoy.
Ingredients
Ceps (200 g)
Ground onion (3 teaspoons)
Flour (50 g)
Butter (50 g)
Milk (500 ml)
Ground pepper (1 teaspoon)
Eggs (2 units)
Bread crumbs (200 g)
Salt (1 teaspoon)
Oil for frying
Preparation
Soak the DANI ceps in water for 30 minutes to hydrate them and then chop them.
 
In a frying pan put butter until it melts.
 
Add the chopped ceps, ground onion, salt and ground pepper. Sauté for 5 minutes. 
 
Add flour and stir until it becomes a dough. Then add previously heated milk and stir continuously for 5 minutes. 
 
Spread the preparation in a bowl and let it rest in the freezer for 1 hour, this way the dough will get more consistency.
 
With the help of two spoons the croquettes are assembled.
 
In a bowl beat the eggs and in another one put the breadcrumbs. 
 
We pass the croquettes through the egg and then through the breadcrumbs.
 
Heat a frying pan with abundant oil and fry the croquettes until they are ready.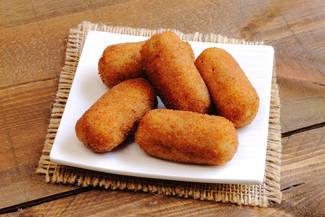 Recipe type

Entrée / Appetizer

Preparation Time

1 hour 30 minutes

Total Time

1 hour 45 minutes