Don't know what to prepare? We teach you how to prepare a very simple and delicious sea recipe, eggs stuffed with salmon and crab meat.
Ingredients
Can of DANI crab (2 cans)
Can of DANI natural salmon (2 cans)
Eggs (4 units)
Mayonnaise (3 tablespoons)
Ground red pepper (1 teaspoon)
Ground green pepper (1 teaspoon)
Salt (1 teaspoon)
Lemon juice (2 teaspoons)
Preparation
Put a casserole with water, when it is boiling we cook the 6 eggs for 10 minutes. You can add 2 spoonfuls of salt so that you can cook the eggs more easily. When the eggs are done, cover them in cold water, peel them and cut them in half. We will separate the yolks for the preparation of the filling.
 

We take a bowl and introduce the cans of salmon, crab, yolks, mayonnaise, ground red pepper, ground green pepper, salt and lemon juice. With the help of a spoon mix everything well. The dough should be moldable and not too thick. 
 

We will color the filling in the center of the white of the boiled egg previously giving a rounded form so that it is more beautiful and ready to enjoy this delicious snack. 
 

You can add a sprig of chives to decorate.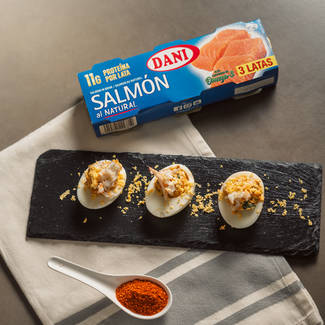 Recipe type

Entrée / Appetizer

Recipe Cuisine

European, North American, Latin, International

Preparation Time

10 minutes