Ingredients
400-500 g of raw canard foie gras
40 g canned green pepper
1/2 glass of brandy
1/2 glass of muscat
1 tablespoon of balsamic vinegar of modena
Fine salt
Black pepper
Preparation
First of all clean the foie with a sharp knife to remove the outer sheets, and eliminate all the veins and nerves that we see, without fear of deepening the foie or cutting it further to reach further inside.
Once well deveined we will have left irregular pieces that we will put them for 15-30 minutes in abundant water with fat salt and a few ice (to remove the remains of blood). We remove them and drain well.
Put the foie gras on a plate, add the 40g of canned green pepper, salt abundantly and season with black pepper. Mix until homogeneous. Then we introduce all the foie gras in a plastic bag and sprinkle it with the liquid. The bag is closed and will go on a plate to the refrigerator, where we will leave several hours (for maceration), going around regularly to distribute the dressing equally.
For its cooking, we will do it in the oven, on a metal source (important so that it takes the heat quickly) and covered with transparent film so that it does not dry out, during 25-30 minutes.
Finally fill the terrine with foie gras. The important thing is to drag the minimum amount of fat to the terrine. We will make layers of foie without major problems, because it will be very soft and mold perfectly. Finally we put a weight on it so that it takes the shape well, stick the pieces together, and force to expel the excess fat.
We introduce it in the refrigerator as soon as it has cooled down a little, and a few hours later we can remove the weight and recover the fat that was left over, that we melted a bit and added it on the terrine of foie gras to cover it well and that keep without rusting The next day you will be ready to taste our terrine of foie gras. Serve foie gras always cold, fresh from the fridge.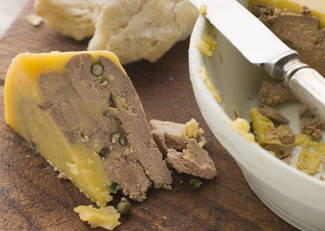 Recipe type

Entrée / Appetizer