Ingredients
1 bag of salad mix
100 g of mushrooms
150 g of margarine
1 pink grapefruit
1 teaspoon of mustard
2 teaspoons of ground green pepper
1 cucumber
2 radishes
Liquid sweetener
Olive oil
Salt
Preparation
Clean the salad mixture and cut it. We also clean the mushrooms, the cucumber, the radishes and cut them all into slices.
Next peel the grapefruit removing its white part and cut it to pieces. With the rest of the pulp we recover the juice and reserve it. We will prepare the dressing by mixing the grapefruit juice, the mustard, a pinch of salt, green pepper, sweetener and the oil.
Once the sauce is finished, season the salad previously prepared.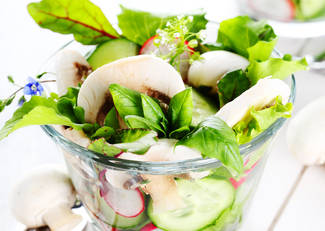 Recipe type

Entrée / Appetizer