We teach you how to prepare a delicious homemade pear cake that is very pleasant to the palate. Once you prepare it, you are going to love it.
Preparation
Begin to preheat the oven to 180º with heat on both sides and without air.
 
Take the pears and peel them, 3 we will cut them into thin sheets for the final decoration and another 2 we cut them into small cubes.
 
Next, we beat the mixture of eggs, diced pears, flour, sugar, milk, sweetened vanilla salt, ginger and cardamom.
 
Beat until all the ingredients are well incorporated.
 
Take a mold and grease it with a little butter, sprinkle a little flour and introduce the dough.
 
Place the thin pear slices that we have previously cut.
 
Bake it for 50 minutes at medium height with heat up and down at 180ºC.
 
Once it is baked remove it from the oven, let it cool down to room temperature and we will remove it from the mold.
 
Give it a final touch by adding apricot jam on top and enjoy.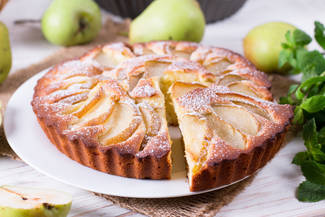 Recipe Cuisine

Mediterranean

Preparation Time

10 minutes