For lovers of paprika, today we are going to teach you how to prepare a chicken with paprika with delicious flavors and textures.
Ingredients
Chicken breast (1/2 kg)
Granulated garlic (3 teaspoons)
Poultry broth (100 ml)
Virgin olive oil Rosemary (1 teaspoon)
White wine (200 ml)
Liquid cream (200 ml)
Sweet paprika (1 teaspoon)
Salt
Ground black pepper
Preparation
First we are going to cut the chicken breasts into small cubes.
 
Heat a frying pan with oil and add the chicken cubes previously cut.
 
Sprinkle salt and ground black pepper to taste and sauté for 2 minutes.
 
We add the white wine with the simmer, we wait for all the alcohol to evaporate.
 
Add the poultry broth and let it cook for 5 minutes.
 
We add the liquid cream to the preparation, we stir it until all the ingredients are well integrated. Add rosemary and cook for 3 minutes.
 
Finally we add the sweet paprika, stir it, remove it from the heat and enjoy.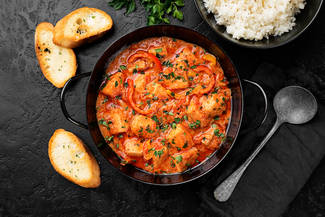 Preparation Time

5 minutes