Our salmon salad with a Thai touch is perfect to turn a dinner into a special occasion or to accompany your main dishes.
Preparation
If there is one place in the world that surprises you with its aromas, it is Thailand. When you prepare this recipe, your senses will be awakened as if you had traveled to that exotic place.
Hey chef!
The star of our salad? Our salmon packed naturally, without skin or bones, ready for consumption. An authentic product rich in Omega-3 and high protein content, which you cannot miss in your diet.
Preparation of salmon salad:
Wash the vegetables of our recipe and we chop everything very fine.
Season these vegetables with oil and salt.
Open our can of salmon and crumble it.
Mix everything in a bowl.
Add the coriander, pepper and parsley, to taste.
And finally, we season with our Thai flavor grinder.
Your guests will like the oriental touch so much that they will ask for the grinder so here's an idea: better have it on the table! With this recipe, aren't salads boring anymore?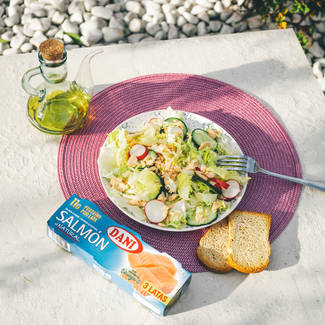 Recipe type

Entrée / Appetizer

Preparation Time

20 minutes