Preparation
Heat oil, add the tomatoes cut into small squares and fry with the onion. Meanwhile, we open the cans of sardines and set aside the olive oil they bring, reserving it.
As for the mass, we divide it into two equal parts. Flour the kitchen countertop and stretch the dough with the rolling pin so that it is as thin as possible. First add a layer of onion and tomato at the base. eye! It is very important that the filling is cold so that the dough holds well.
Now, we put the sardines we have drained over and sprinkle some sweet paprika, salt and black pepper. Next, we cover with the other half well stretched. We will seal at the edges, braiding with the hands or with the help of a fork, and make a small hole in the center to breathe the pie.
We will do the same for different areas, so it will not swell. Finally, we can decorate the pie with strips of the remaining dough.
It is time to paint the pie with a brush. We will use the oil that we reserve from the sardines. Then, preheat the oven for 5 minutes at 180º C and then put the pie at the same temperature. First, about 20 minutes for the part of below and then another 20 minutes in the center.
When it is golden brown, we take it out, let it cool a little and ... ready to enjoy!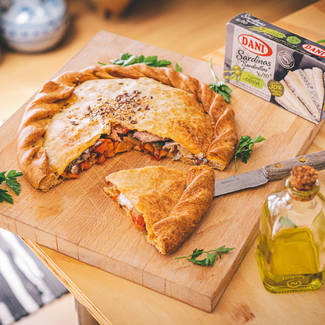 Total Time

1 hour 30 minutes