Ingredients
200 g of frozen shrimps
1 avocado
8 cherry tomatoes
1 lemon
Dill
Parsley
Chili pepper
Garlic
Black pepper
Salt
Preparation
Put the frozen shrimps in boiling water. When the shrimps rise to the surface, we will boil them for 7-10 minutes, not more, because the meat would get hard.
In a salad bowl, cut into cubes the avocado, the cherry tomatoes and mix it with the shrimps.
We will make a dressing with 2 tablespoons of oil, garlic, ground chilli, the juice of a lemon, pepper as desired and add it to the salad bowl, mixing well and sprinkling with a little dill and fresh parsley.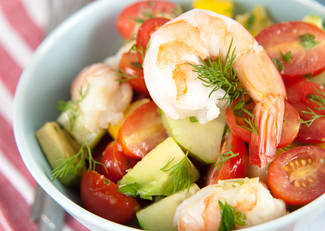 Recipe type

Entrée / Appetizer

Preparation Time

30 minutes

Total Time

1 hour 15 minutes