Ingredients
400 g of flour
200 g of butter
75 g of vanillin
2 eggs
Baking powder
Aniseed
Ground cinnamon
Ground clove
25 g of confitted lemon already chopped
25 g of confitted orange already chopped
50 g of chopped raisins
50 g of chopped almonds
2 apples
1 pear
2 tablespoons of brown sugar
1 lemon
Preparation
In a bowl, beat the butter with the sugar. When a uniform dough has been formed, we will add the eggs and continue mixing.
In another bowl, we will mix 300 g of flour with a teaspoon of baking powder. Add a teaspoon of anise grain, a teaspoon of cinnamon and half teaspoon of clove, the lemon, the orange, the raisins, the almonds and half of the butter and the sugar previously beaten. Mix and add the rest of the butter -stir it all-.
Knead on a floury surface, where we will distribute the dough in eight molds for muffins and bake 20 minutes at 160 ºC.
For the compote, we will peel and cut the fruits in eighths. Then heat the butter with the sugar in a pot to form a caramel. Add the fruit and the juice of half a lemon and its grated skin. Cover it and let it cook for 15 minutes over low heat.
Once the compote is finished, we will distribute it over the eight previously baked muffins.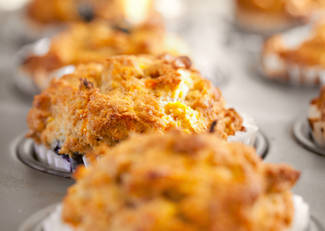 Total Time

1 hour 30 minutes