Ingredients
2 cans of surimi of baby eel in garlic sauce
2 cloves of garlic
Instant preparation to coat in batter
1 tablespoon of parsley
Olive oil
Salt
Preparation
Chop the garlic cloves and brown them in a pan with oil. Add the surimi (previously drained), a little salt and mix well to cook everything a little. Reserve it on a plate.
In a bowl prepare three tablespoons of instant coat in batter with a little water (following the package instructions) ensuring not to be too liquid. When it has the right texture, add the surimi, the essential touch of parsley, and stir well until it becomes a manipulable mass, because the next step will be to take a handful of it and making mini omelettes that we will be preparing on a plate. If we realize that we have miscalculate the coat in batter, we can prepare a little more and add it without problems.
Once we have the omelettes ready, put plenty of oil to heat in a pan and, when it has the right temperature, we proceed to fry them. This is the most delicate part. It is a good solution to take them with a slotted spoon and place them carefully in the hot oil. Brown them on one side and then on the other side. Let them drain a little on a plate with absorbent paper, and serve them hot.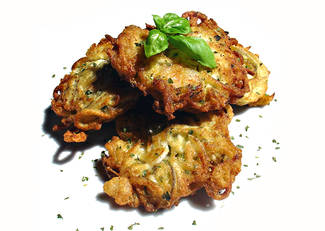 Recipe type

Entrée / Appetizer