It is a simple drink but it brings many benefits to our body. In addition, it is a drink with a vegan option.
Preparation
Heat milk in a saucepan with the cinnamon stick, ground ginger, ground black pepper and a pod of star anise. 
 
Before it comes to the boil, lower the heat to the minimum. 
 
Add the ground turmeric and stir continuously.
 
Let it simmer for 5 minutes.
 
Strain the preparation and serve it in the cup. Sprinkle a little cinnamon on top and enjoy.
 
It can be drunk either hot or cold.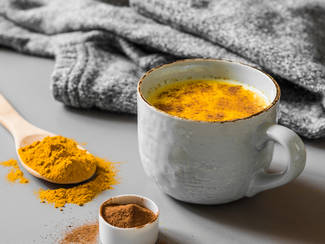 Recipe type

Drinks and cocktails

Preparation Time

5 minutes