To make vegan burgers based on broccoli, carrot and spinach is very easy and you will have it ready in less than 30 minutes.
Ingredients
Broccoli (450 g)
Spinach (225 g)
Carrot (1 unit)
Breadcrumbs or flour Garlic powder (1 teaspoon)
Parsley powder (1 teaspoon)
Ground black pepper (1/2 teaspoon)
Salt
Virgin olive oil (1 teaspoon)
Preparation
We heat hot water in a saucepan, adding a pinch of salt and oil. When the water is boiling, add the carrot.
 
After 7 minutes, we will add the broccoli and 7 minutes later, we add the spinach. It is important to follow this order because each product has its cooking time.
 
Once the vegetables are well cooked, we will drain them and separate the broth, which will then help us to shape the burgers.
 
We place the vegetables in a container and mash them with a fork, leaving a compact mass.
 
Add the salt, ground black pepper, garlic powder and parsley, stir until everything is well integrated.
 
Add breadcrumbs and a little broth to the mixture and stir it until you get a compact dough.
 
We will shape our hamburgers and put them in a pan over high heat, lasting for both parts and ready to eat.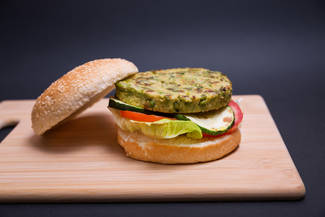 Recipe Cuisine

Mediterranean

Preparation Time

5 minutes