It is a pizza with a base made of cauliflower dough, providing a tasty, crunchy and very healthy flavor.
Ingredients
Cauliflower (500 gr)
Water (1/2 glass)
Rice flour (1 cup)
Chickpea flour (1 cup)
Salt Cherry Tomato
Oregano (1 teaspoon)
Ground black pepper (1 teaspoon)
Extra virgin olive oil (1 teaspoon)
Fried tomato (4 tablespoons)
Granulated onion (1 teaspoon)
Preparation
Previously we heat the oven to 200ºC.
 
Chop the cauliflower, put it in a frying pan without oil and let it brown for about 5 minutes. And then we let it cool down.
 
We have to remove the water from the cauliflower, for this we will use a gauze and squeeze it so that all the liquid it contains comes out.
 
In a bowl we include the cauliflower, rice flour, chickpea flour, salt and ground pepper. We knead until we get a dough ready to shape with our hands or with the help of a floured rolling pin.
 
We place the base on a tray and bake it for 25 minutes.
 
We take out the pizza and add the tomato sauce, the cherry tomatoes cut in half and the oregano. We bake 10 more minutes.
 
We pour a splash of olive oil and granulated onion on top and enjoy.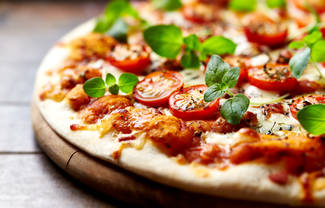 Recipe Cuisine

Mediterranean

Preparation Time

5 minutes