Ingredients
Thick asparagus
1 egg
200 ml of milk
Water of the asparagus can
Olive oil
Salt
Preparation
In a bowl or blender glass, beat the egg with a drizzle of olive oil and a pinch of salt. We must obtain a very thick mayonnaise, it is advisable not to abuse of the olive oil so that the mayonnaise retains a very mild flavor.
Heat the milk slightly in a bowl and beat it once warm, with a blender, obtaining a very light foam. Pour the milk with its foam over a couple of tablespoons of mayonnaise and a half of the water of the asparagus can and beat gently but constantly until you get a spongy sauce.
We will serve the asparagus with the mayonnaise foam.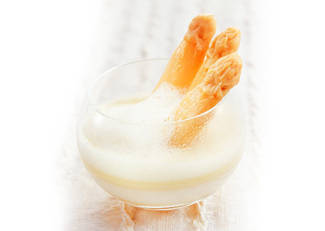 Recipe type

Entrée / Appetizer