Hake with green sauce is a traditional and simple recipe of Basque gastronomy. With few ingredients and a good hake you will have an exquisite dish.
Preparation
In a large casserole, pour olive oil, enough to fry. Put the onion flakes and the DANI garlic flakes, and put it on a low heat. Add the flour and stir well for 2 minutes.
 

Then add the white wine and the fish broth, stirring it and let it cook for 10 minutes. Meanwhile, season the hake supreme with salt and pepper, being careful not to get too much.
 

Add the parsley and the hake slices. Cover the casserole and cook over medium heat for 5 minutes.
 

Then, drain the asparagus and the canned clams, and add them. And already have our plate ready to serve!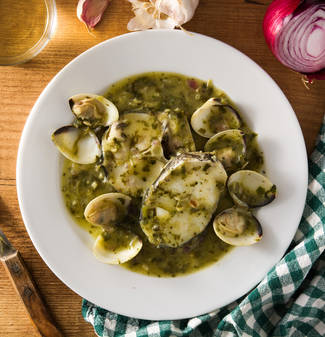 Preparation Time

5 minutes