Ingredients
6 large potatoes
1 can of sweet corn
1 can of palm hearts
1/2 cup of milk cream
Butter
2 tablespoons of flour
Cayenne pepper
Black pepper
Salt
Preparation
Wash the potatoes and cut them in half. Place them in a baking sheet and bake them at 180ºC for 1 hour (we can poke them with a toothpick to know if they are fully cooked).
Melt the butter in a medium pan, add a pinch of cayenne pepper and sauté it for a few minutes. Once done, add two tablespoons of flour and stir it. While stirring, add the cream until you get a thick and consistent texture.
Chop 5 palm hearts (previously drained) and add them together with two tablespoons of sweet corn (previously drained) to the cream, add salt and pepper as desired and let it settle at room temperature.
Empty the potatoes already cooked with a soup spoon, leaving a thin layer of potato together with the skin so that we have like little baskets.
Once the mixture of palm hearts and corn is cold, add the previously chopped potato and fill the baskets with the mixture. It can be served cold or hot.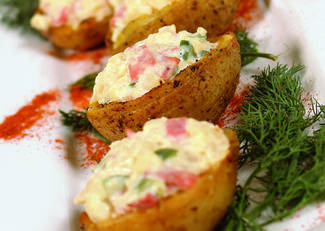 Recipe type

Entrée / Appetizer

Preparation Time

30 minutes

Cooking Time

1 hour 15 minutes

Total Time

1 hour 45 minutes