Recipe for roasted chicken with raisins and pine nuts. Juicy and tasty.
Ingredients
Poultry
Onions (2)
Tomatoes (2)
Prunes (20)
Apricot ears (12)
Bay (2 leaves)
Pine nuts 25g
Stale wine (1 glass)
Brandy or cognac (½ glass)
Olive oil
Salt
Preparation
Christmas is a time to celebrate, to meet again, to share long after-dinner meals and to cook with love for our people. This is one of the best gifts you can give to your loved ones. With this roast chicken with raisins and pine nuts, you will make sure they never forget the taste of this magical Christmas Eve. But if you like the recipe so much that you can make it any other time, the result will be the same.
Why do we like the nuts in this recipe? Because they bring a delicious flavor to this roast, making it much juicier and tastier. Besides, chicken is one of the healthiest meats, containing very little fat and easily assimilated proteins. Do you have all the spices? If you lack some, remember that in Dani you will be able to find them.
Preparation of roast chicken with raisins and pine nuts:
Wash, dry and season the chicken.
 
Heat in a casserole with oil and fry the chicken for about 10 minutes until it is well browned. We reserve.
 
Peel and chop the onions and add them to the casserole.
 
Add the cinnamon, pepper, laurel and garlic.
 
Fry everything over a medium heat for approximately 5 minutes.
 
Peel and chop the tomato. Add it to the casserole and fry for 5 more minutes.
 
Now, add the chicken and add the wine, brandy and half a glass of water.
 
Cook for about 40 minutes over a low heat and covered.
 
If the chicken remains dry, we can add a little water.
 
Add the plums and the dried apricots. Cover and cook for another 25 minutes.
Finally, sprinkle the pine nuts on top and leave to cook for 5 more minutes.
Before serving, let it rest a bit. It can be a good time to tell you all those anecdotes and share memories while you enjoy some appetizers... as a family, of course!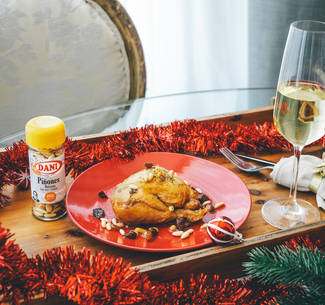 Recipe Cuisine

Mediterranean, Christmas

Preparation Time

10 minutes

Cooking Time

1 hour 20 minutes

Total Time

1 hour 30 minutes