Ingredients
1 kg of flour
2 tablespoons of rosemary
2 tablespoons of pink pepper
25 g of dried onion in flakes
50 g of fresh yeast
2 cups of water
1/2 cup of olive oil
1 tablespoon of fine salt
Marine salt
Preparation
In a non-stick surface place the flour forming a circle. Add the salt on the edges and in the central part drop the yeast previously dissolved in a small cup of water at room temperature. Knead well and let the dough settle for 10 minutes with a wet cloth on top.
Once settled, add the rosemary, the pink pepper (previously crushed), the onion flakes, the oil and add water as you knead until you get a uniform texture.
In a baking sheet, we stretch the dough with the shape that we prefer and paint it with olive oil.
Sprinkle some marine salt, a little more rosemary and cover again the dough with the same cloth until it doubles the size. Once it has fermented, cook the dough in the oven, which has been previously heated to a medium temperature for about 30 minutes. Let it cool, sprinkle with rosemary and it will be ready to serve.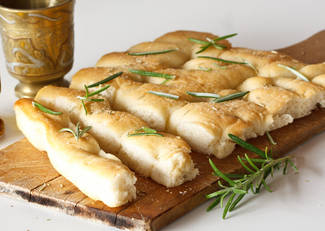 Total Time

1 hour 30 minutes