Prepare a delicious salmon poke bowl at home with this easy and healthy recipe. Combine fresh chunks of raw salmon with sushi rice and a variety of fresh vegetables.
Ingredients
200 grams of sushi rice
200 grams of fresh salmon
1 ripe mango
1 ripe avocado
1 cup edamame beans
Crispy fried onion
50 grams of wakame seaweed, hydrated
4 radishes, thinly sliced
Toasted sesame seeds
Preparation
Cook the sushi rice according to package directions. Once cooked, let it cool to room temperature.
In a large bowl, place the cooled sushi rice as a base.
Cut the salmon into cubes and add them on top of the rice.
Cut the mango into cubes and distribute as in the photo.
Do the same with the avocado sliced and placed around the bowl.
Sprinkle the crispy Dani fried onion, hydrated wakame seaweed, sliced radishes and cooked edamame beans over the bowl.
Sprinkle the toasted sesame seeds over the poke bowl.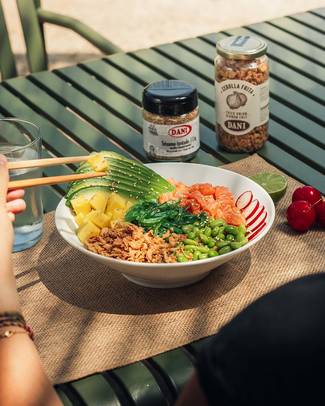 Preparation Time

20 minutes