The seafood salpicón is a typical Spanish tapa, today we are going to show you how to prepare this fresh, easy and fast dish with DANI preserves offering the best quality and flavor. Ideal for summer and special occasions such as Christmas.
Preparation
We open the tin cans and drain them, keeping 3 teaspoons of marinade and another 3 of olive oil from the octopus. 
 
We wash and chop the onion and peppers.
 
In a bowl we will place all the previous ingredients and we will add the teaspoon of vinegar, the teaspoons that we have reserved previously, the olives, the ground black pepper and mix everything.
 
Sprinkle the sweet paprika on top and enjoy.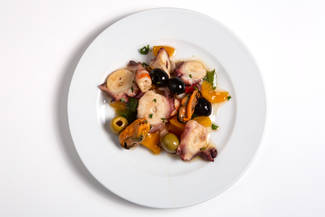 Recipe type

Entrée / Appetizer

Recipe Cuisine

Mediterranean

Preparation Time

10 minutes