Ingredients
1 dough for pie
400 g of spinach
2 tablespoons of raisins without seeds
2 tablespoons of pine nuts
1 egg
Oil
Salt
Preparation
Sauté the spinach, little by little, in a pan with a little oil and season with salt. Apart we slightly brown the pine nuts in a little oil and add them, together with the raisins, to the sautéed spinach.
When everything is made a dough, remove it from the heat and let it temper a bit to be able to work with that dough. When it's cold, we proceed to fill the dumplings with the previous preparation and fold them by closing the edges with the help of a fork, and making cuts at the top. Beat an egg and paint the dough so that once cooked they are well browned.
Cook the  in the oven, previously heated to 200 ºC of temperature, for 15 minutes.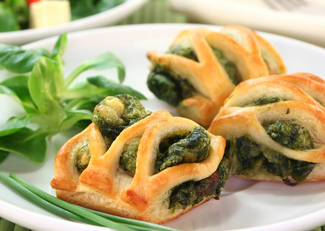 Preparation Time

15 minutes