Ingredients
2 cloves of garlic
2 eggs
1 glass of virgin olive oil
½ Kg of white bread
250 g of pine nuts
Salt
Vinegar
200 g of melon
1 apple
50 g of currants
Preparation
Leave the pine nuts to soak for twenty-four hours. To make the gazpacho, put them in the glass of the blender together with the center of the bread, also soaked, the eggs, the peeled garlic cloves, a little vinegar and a little water.
Beat it and, at the same time, add the oil little by little, until get an emulsion similar to the mayonnaise sauce. Once obtained, add water, salt and vinegar to taste.
Let it rest in the fridge because it has to be served very cold. It is served with the garnish of melon and apple, conveniently peeled and cut into cubes, and the currants.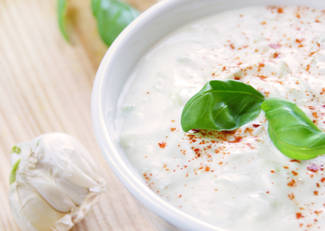 Recipe type

Entrée / Appetizer

Total Time

1 hour 30 minutes