Don't miss the recipe for extra crispy fried chicken with authentic American-style batter thanks to the batter preparation that DANI offers.
Preparation
In a bowl add milk, salt, black pepper, sweet paprika and ginger. Add the chicken wings and let them marinate for at least 4 hours in the fridge so that the flavor is well incorporated.
 

In a bowl mix the flour, salt, pepper and sweet paprika. In another bowl  beat the eggs.
 

Bread the chicken wings following this process: first go through the flour mixture, then the egg and finally a layer of DANI batter preparation. To get an extra crunchy texture repeat the egg process and the batter preparation.
 

Fry them for 5 minutes and ready to enjoy some delicious extra crispy chicken wings.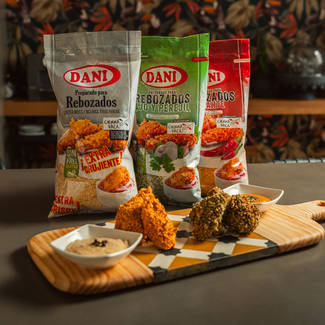 Recipe Cuisine

Mediterranean

Preparation Time

15 minutes