If you want to prepare an authentic pasta with le sarde, a traditional Sicilian recipe, stay and we'll show you.
Preparation
We cook the pasta following the manufacturer's steps. And we reserve 4 tablespoons of the cooking water.
 
We will toast the pine nuts in a pan without oil, be careful because they burn easily.
 
We will add oil in a pan, cut the two cayenne pepper units and introduce them to the pan, let it release the aroma for 2 minutes and reserve it.
 
Once the pasta is done, we drain them and put them in a casserole, add the pine nuts, the drained sardines, the salt, the garlic powder and the parsley.
 
Then we will remove the cayenne from the oil and introduce it into the pasta and stir it.
 
We let it rest for 5 minutes and ready to enjoy.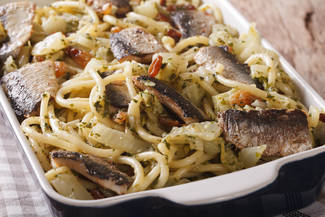 Recipe Cuisine

Mediterranean, Italian

Preparation Time

10 minutes