Ingredients
300 g of shrimps
200 g of papaya
100 g of green beans
30 g of peanuts
2 chilli peppers
1 clove garlic
1 lime
Soy sauce
Brown sugar
Preparation
Peel and grill the shrimps. Reserve them.
Toast the peanuts, over low heat, in a frying pan without fat. Reserve it.
Mix in a bowl the lime juice, two tablespoons of soy sauce and two tablespoons of brown sugar, beat them until the sugar is dissolved and the sauce is thicken. Add the chillies without seeds and very finely chopped, the peanuts and the clove of garlic (both very chopped), and mix it. Cut the papayas into slices and put them together with all the other ingredients in a salad bowl.
Add the green beans (clean and cut diagonally, in very thin strips) and stir well so that the sauce reaches all the vegetables. Serve it very fresh.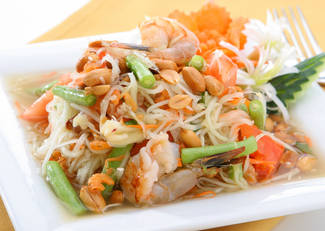 Recipe type

Entrée / Appetizer