Preparation
Start by salting the chicken and frying it in a casserole with olive oil. When you think the chicken is well marked and lightly fried, remove it from the heat and reserve it. But, eye! Do not throw the oil in which you have prepared it, in it you should sauté the onion for about 10 minutes over low heat and add the garlic pulp after 7 or 8 minutes of cooking the onion so that the flavors are integrated.
Next, grate the tomatoes and add them to the pot along with the bay leaves. Fry everything until the tomato water has evaporated and you see that the sofrito is concentrated.
It is time to add a good sprout of vermouth and a cinnamon stick to the mixture, in addition to the chicken you have reserved, and let everything boil over high heat for about 5 minutes until the vermouth alcohol has evaporated.
Next, add chicken broth to cover the chicken completely and let it cook over medium heat for about 45 minutes. Finally, check that it is tender and ... Eat and enjoy this delicious recipe!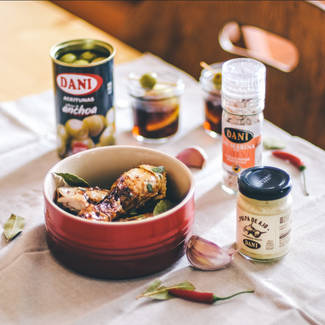 Total Time

1 hour 30 minutes