Ingredients
10 layers of lasagne
3 cans of tuna
Fresh or frozen spinach
1 onion
1 small pepper
1 clove of garlic
1/2 l of milk
2 tablespoons of flour
1 tablespoon of butter
Pepper
Nutmeg
Olive oil
Grated cheese
Salt
Preparation
First we cook the lasagna pasta in plenty of water with salt and oil. Once cooked, cool it with cold water and reserve.
In a bowl, chop the onion, the pepper, the garlic clove and brown them in a pan. When they are tender we add the drained tuna. Remove it, season it and reserve it.
Boil the spinach and drain it. Prepare a pan with a little oil and put a little onion to fry, when it is poached we add the drained spinach and sauté a little. Add salt and pepper and reserve.
Then spread the butter in a baking plate, put a layer of pasta, extend on top of the layer the seasoning with tuna and another layer of pasta on top. We continue the process with a layer of spinach seasoning, and repeat the process until we are left without layers of pasta.
Preheat the oven to 180ºC.
Next, prepare the bechamel sauce. Heat the butter and sauté the flour until golden. At that moment we add the milk little by little, add salt and pepper, and leave it over low heat until you get a fine cream.
Cover the lasagna with the béchamel sauce, sprinkle with the grated cheese and gratin in the oven at 180ºC for half an hour. Serve it hot.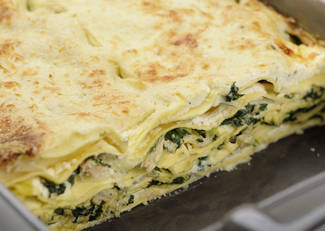 Total Time

1 hour 30 minutes