Ingredients
500 g of spaghetti
1 can of squid in its own ink
1 can of shrimps
2 tablespoons of olive oil
1 large onion
2 cloves of garlic
1 glass of white wine
Pepper
Preparation
We cook the spaghetti in a wide casserole, letting it cook for 8 minutes until it is al dente. To give them color, we add one of the pots of squid ink to the cooking water once it comes to a boil.
 
To make the sauce, fry 2 peeled garlic cloves and an onion cut into small pieces in a pan in olive oil. When it changes color, we add the other pot of squid ink and a ladle of water to cook the pasta and mix well.
 
In another pan, we put 3 tablespoons of olive oil and lightly brown the sliced ​​garlic clove. Add the prawns and sauté them until they change color. We lower the heat and add the can of squid in its ink along with its sauce followed by the glass of white wine. We will cook slowly for a few more minutes. Once ready, we reserve them until serving time.
 
We drain the pasta when it is well cooked and pour it over the sauce, mixing well so that the flavors and colors are integrated. We serve in each plate and complete the portion by putting some prawns to each diner, it is served hot.
 
Now enjoy!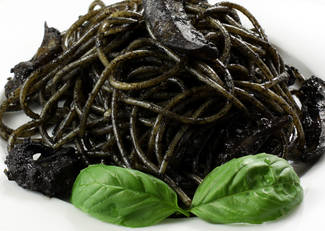 Preparation Time

15 minutes