Ingredients
1 can of mussels in galician sauce
1 can of baby octopus
8 fresh prawns
6 medium potatoes
½ medium onion
2 green peppers
2 cloves of garlic
1 wineglass of white wine
Thyme
Parsley
Saffron
Pepper
Salt
Preparation
Wash, peel and cut the potatoes into thin slices. Fry them in plenty of oil, drain them and reserve them.
Cook in a pan the unpeeled prawns, with a little salt and parsley and reserve them.
Sauté the chopped onion and garlic cloves; When the onion is transparent add the chopped peppers until they are tender. Add the potatoes to the pan. Incorporate the mussels with their sauce, the baby octopus previously drained and some dissolved stigmas of saffron . Season with thyme, pepper and salt.
Pour the white wine and prawns and cook 2 more minutes. Finally sprinkle with the chopped parsley and serve hot.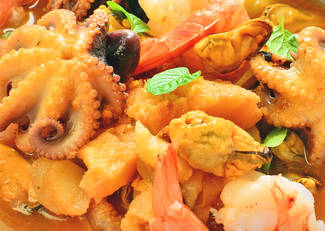 Total Time

1 hour 30 minutes