Ingredients
750 g of lamb's back
4 turnips
4 carrots
2 medium potatoes
100 g of butter
2 tablespoons of oil
100 g of peas
1 glass of white wine
1 onion
Hispania flavor seasoning
Five peppers
Preparation
Clean the turnips and the carrots, cut them in slices and cook them in water and salt, together with the shelled peas. Drain and reserve.
During the cooking of the vegetables, cut the lamb into pieces and sauté it in a casserole with half the butter and oil.
When it is brown, add the onion together with the Hispania flavor (a spoonful). Add 1 and 1/2 glass of water to the lamb and let it cook for 20 minutes; add the chopped potatoes, season it and cook for 20 minutes more.
Add the cooked vegetables to the stew, a few grains of five peppers to decorate and it is ready to serve.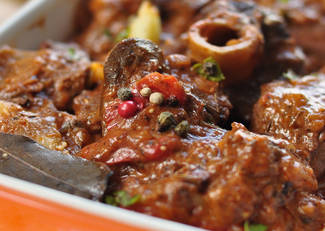 Total Time

1 hour 45 minutes